The most essential step to do when you discover an infestation of termites is not worry though it's a panicking situation but EFS is there for the cure. Although they will definitely have done some damage already, as soon as you get it sorted out quickly your property should be okay. The optimal way of getting rid of termites is to contact pest control specialists such as Evergreen fumigation services who will be able to eliminate the infestation by destroying the termite colony. There are a lot of treatments that you can buy, but the only way you will know that the issue really has been completely eradicated is if you get such professional help of evergreen Fumigation for Termite Control.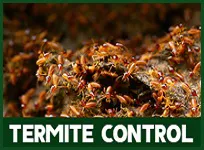 Evergreen Termite Control Plans are a superb way to take action against a termite attack on your property and to eliminate the termites from the property. EFS Termite Expert will recommend a special solution that best suits your individual situation. Like the name suggests, wood worms or termites like to munch on, well - wood. This means that this specific type of pest is capable of inflicting some serious (and expensive) damage to the structure of your home. If you've heard some strange crawling sounds around your house, coming from basically nowhere, and at the meantime, have noticed holes in beams and your wooden furniture - then know that! You are most likely a victim of a termite attack. Because they may be secretly hiding and thriving in your home or yard without any immediate signs of damage. All termites consume wood plant materials. Unfortunately, our homes, regardless of their construction type, can provide cellulose food for termite infestation. They primarily feed on wood, paper, books, insulation, and even swimming pool liners and filtration systems.
In such cases it's best to depend on the help of a professional like EFS, that's if you don't want to invest in a serious home renovation. you find yourself under attack by the destructive nature of termites, you want someone you can trust to soon to restore your sense of comfort and safety. At Evergreen Fumigation services, our termite treatment plans are molded specifically for your particular needs.
Let's first know about the nature of the termites. They are tiny insects; they are often confused with ants. They are most likely to be found in the area where the air is highly moisturized and the weather is relatively hot. Looking at this fact Karachi is an ideal location for termites. They often damage the structure of the building, wooden doors, and windows. It is not important that they only damage old property, they can easily be found in newly constructed properties sometimes.
There is a reason Karachi resident consider EFS the #1 Termite Treatment services provider. Our house termite treatment experts have two decades of knowledge and experience in termite battling, termite infestation with these home-wrecking unfriendly toxic nuisances. We are a 24/7 search and destroy operation for pests and termites. We are reliable, trustworthy and have always arrived on time for any local Termite Treatment job, big or small.
We perform termite and pest control services in 3 phases: a home inspection to find and figure out termites, termite treatment to exterminate existing termites, and a termite protective plan to proactively control and prevent any termite problems in the future. Our team of pest and Termite Treatment specialists is mainly experienced in controlling the spread of termites in Karachi. Get help now before the infestation gets out of control. If you're looking for a Termite Treatment team that's both experienced and effective, give us a call today!
Termite Treatment is a very important issue. It can cause you great trouble. Detecting and treatment it timely and effectively is very important. You will need a Termite Treatment specialist. Evergreen fumigation service is providing quality service at the most reasonable price. Just contact them and get your facility free of termites.