Dengue Control Treatments
---
Dengue is dangerous, literally. That's why Evergreen's mosquito control service targets these pests so they don't target you. Evergreen Fumigation technician will prepare a Dengue Control Treatment plan that's right for you. Our plan begins with a thorough property inspection.

An Evergreen anti dengue service plan provides:
A combination of treatments to break the mosquito's life cycle, preventing larvae from becoming breeding, biting, and potentially disease-carrying adults. Monthly or one-time treatments during dengue season safe for family and pets added protection from mosquito-borne diseases.

HOW EVERGREEN TREATS FOR DENGUE MOSQUITOES
A DENGUE treatment plan begins with a thorough property inspection by a highly-trained pest control technician to locate and identify mosquitoes and the places they breed in and around your home. Once the inspection is complete, your Evergreen technician will prepare a mosquito treatment plan that's right for you.

DENGUE CONTROL DOWN TO A SCIENCE
When we treat your home for dengue, we'll give you a customized solution based in science. With customer winning training and advanced technology, your Evergreen technician will look for conditions that invite dengue mosquitoes, tackle current infestations, and stop the life cycle to help reduce the number of mosquitos in your yard.

Keeping them away is not a one-time event, it's a process and you can trust that your Evergreen technician will work diligently to deliver unique solutions — rooted in science — to help you take back your yard.

Finding a top-rated mosquito spray service for your backyard is made easy by the team of Dengue Control Treatment experts at Evergreen. Our licensed professionals have been providing customers with quality pest control services for nearly a century. We understand that your home is your sanctuary and your yard is your oasis. And, you don't want pests in either.

Getting rid of deadly dengue in your yard and eliminated from your outdoor fun zones is best achieved at the hands of a professional mosquito exterminator. We have options for a variety of property types from offices to single-family homes throughout the area. So if you're looking for Dengue Control you've come to the right place.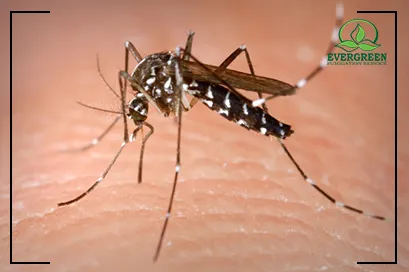 Dengue Treatments for Season
We recognize that peak dengue season begins and ends during summer and vacation season. That's why we offer a one-time mosquito spray service for your safety in dangerous season.

MOSQUITOES CONTROL FOR EVENTS
We can accommodate small yards with intimate gatherings to lavish parties with expansive lawns. If you are hosting a ceremony, cookout, or planning a backyard party, let our certified mosquito control experts spray the area 24-48 hours beforehand to decrease the number of mosquitoes invading your summer gathering.

In such worst environmental conditions, we can easily do our bit by exterminating mosquitoes in our homes and neighborhoods. Evergreen Services extends professional fumigation standards with the use of authentic safe services with no negative impact on human health and environment. Our services only remove the pests without harming any other living or non-living object/human.

Chemical control is advisable in controlling large mosquito populations. Chemicals easily kill mosquito larvae or adult mosquitoes. The use of insecticides is recommended in emergency situations during dengue epidemics or when there is evidence that an epidemic is emerging.

Call for help now.